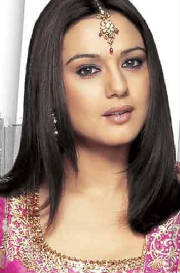 Preity Zinta
Preity Zinta played the part of Naina Katherine Kapur.
She was a lady who never smiled. Her family wasn't a happy one. They prayed for their "angel" to come. They hoped that their angel would change the way that things were for them.
Saif Ali Khan
Rohit is a very good friend to Naina, even though they are complete opposites. Rohit's life is just fun, unlike Naina. He is also very rich because of his dad's restaurant, Dial A Dhokla.